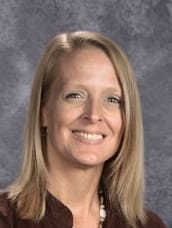 Mrs. Alspach has a Bachelor's Degree in
Elementary Education from Eastern Illinois University, an Associate in Science Degree from Lincoln Trail College. She graduated from Robinson High School.
Mrs. Alspach also holds certification in: K-9 with endorsements in Language
Arts, Mathematics and Social Science.
Mrs. Alspach has been teaching at Hutsonville Grade School for 18 years.