Attention: Parents/Guardians of Hutsonville Athletes CMH will be offering athletic physicals once again. Athletes must be pre-screened by the CMH Athletic Training Staff prior to having an athletic physical. Forms are available in the high school office. Appointment selection and health history portion of physical will need to be completed and turned into the office no later than May 24, 2022!
Spring pictures will be done on Thursday, May 12th. Picture packets are available in the offices. Prepaid picture packets must be returned before picture day. Only those students that return the packet will have their picture taken. Please call the office with questions.
The Crawford County Health Department will be here to give the incoming 6th graders and incoming Seniors their vaccinations on Monday, May 16th. I have sent paperwork home with all of the current Juniors on Monday and the current 5th graders received their packets today. If you choose to have your child participate in the clinic here at school, please return the required paperwork back to the office before Monday, May 9th. If you have any questions, please call the office at (618) 563-4812 and ask for Jennifer.

Congratulations! Isabel Sheets Breaks Career Strikeout Record By Don Angel Hutsonville softball hosted Red Hill Wednesday afternoon, April 20th in a Little Okaw Valley Conference matchup and came away with their eighth consecutive victory shutting out the Lady Salukis 2-0. Entering the game, Isabel Sheets needed 11 strikeouts to break the career strikeout record of 518 held by Lesley Piersall, who pitched for the Lady Tigers softball teams of 1995-98. The Lady Tigers scored two runs in the bottom of the second as Alaina Holcomb led off with a single, Ilayna Sheets reached on a throwing error by the pitcher. Holcomb scored on a ground out by Madi Kingery, while Sheets scored on a overthrow to third by the first baseman. The first time through the lineup, Isabel struck out four: while picking up the pace the second time around, struck out six to tie the record and became the "Queen of Strikeouts" after striking out Maci Scherer in her third at-bat to close the sixth. What is impressive, it was done in 272 1/3 innings, compared to 400 1/3 innings pitched by Lesley Piersall. During her freshman season she also established a single game strikeout record of 21. In her junior season she broke the single season strikeout record with 221. Isabel Sheets finished with 12 strikeouts and allowed one hit in the complete game victory. With the win, Sheets is tied for fourth place with Shandy Knecht, 24 wins (1990-93). Hutsonville was led by Alaina Holcomb with two hits, one run scored and one stolen base; Isabel Sheets had a triple; Alysa Kennedy had a double; Ilayna Sheets had one hit, one run scored and a sacrifice; Madi Kingery had one run batted in and Shara Coffman had a walk.
The Crawford County Health Department will be here next Wednesday, April 27th to administer shots for the incoming 6th graders and incoming seniors next year. If you would like to have your child get their shots here at school or if you have any questions, please call the office or email Jennifer Turner. Consent forms must be filled out before any shots will be given here at the school.
Tomorrow's track meet is at John P. Allen field in Paris. Not at Paris H.S.
No School Today (Monday, April 18th)!
No school for Good Friday! (Friday, April 15th)
There is a 2:00 pm dismissal today (Thursday, April 14th). There is NO intervention after school today! There is NO school on Friday, April 15th or Monday, April 18th.
There is a 2:00 pm dismissal tomorrow (Thursday, April 14th). There will be NO after school intervention!
The junior high track meet at Casey-Westfield is canceled for tonight, Tuesday, April 5th. There will be no track practice. There will be track practice tomorrow, Wednesday, April 6th.
The junior high track meet in T-Town has been canceled for tonight (Thursday, 3/31/22). There will be no practice today.
Hutsonville Elementary and Junior High students will be IAR testing the week of April 4th. Junior high will take 2 tests (1 Math & 1 Reading) on April 5th, 6th, and 7th. Grades 3-5 will take one test each day on April 5th, 6th, 7th, 8th, and 11th. Letters will go home tomorrow with ways you can help your student do his/her best. If you have any questions, please call the office at 563-4812.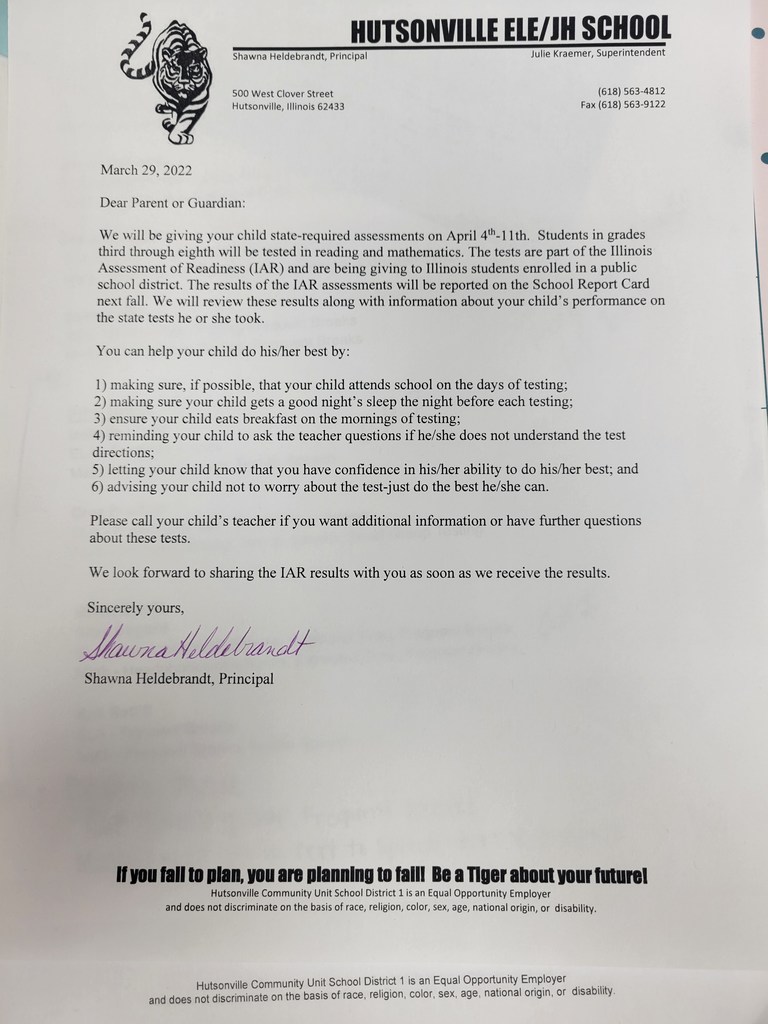 Third Quarter Junior High Honor Roll Honors Philip Birchfield Jaycub Liberatore Brock Noblitt Owen Parker Hayden Shelton Keyleigh Smith Blake Williams Paige Cox Odin Cunningham Chase Heleine Hayden Monan Breana Pettigrew Kaiden Anderson-Wisenewski Dylan Batten Kameryn Clark Skylar Gerth Breanna Gregg Brynn Griffin Eli Newlin Emma Newlin High Honors Claire Anderson Cara Batten Silas Bogard Kaylynn Davison Kaylen Jordan Destinee Ramsey Gracelyn Arvin Alexandra Gray
Kindergarten information for 2022-23 school year. Please fill out the form and return it to the school or call the office at 618-563-4812
https://5il.co/1773k

Hutsonville CUSD #1 Board of Education Athletic Committee Meeting Palestine High School Cafeteria Monday, March 14, 2022 6:00 P.M. Athletic Committee Meeting Agenda 1. Call to Order 2. Approve the Agenda 3. Approve the Minutes of March 11, 2021 and April 6, 2021 (Joint) Athletic Committee Meetings 4. Discuss OPH Tri-Op Athletics 5. Adjourn
Hutsonville CUSD#1 will be closed today, Thursday, February 24th.